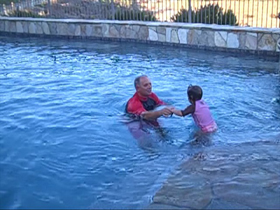 Testimonials
After my children taking your classes for two summers (first at ages 2 and 3, and again at 3 and 4) I can honestly say you have changed their lives... and ours! They are confident, aware of their skill level, and most importantly understand safety and can safely swim to the edge or the steps as needed... Beyond that, Sheridan my oldest is on her way to being a great swimmer, doing her arm circles and pop up breathing, she is exploring the pool and learning new skills and gaining confidence every time we are there. Kian is now a natural floater, and loves to swim a couple yards, then stop mid way and float with one arm and leg out of the pool. His antics make us laugh, but most importantly we are amazed they can swim, navigate and jump in and out of the pool on their own! We love to swim with them, but are also enjoying watching their play time in the pool as they independently practice what you taught them. Long gone now for the past two years are unreliable floaties and swim rings, and now they are safely swimming and playing in the various pools we frequent. Thank you for instilling their sense of personal safety, confidence and their love of swimming and the pool!

Michelle M. (boy age 3 and girl age 4)
"Thanks again for the amazing opportunity and fantastic swim lessons. The girls loved them so much that they have been begging to go back. Although I was a bit skeptical at first, I could not have been happier with the experience. You are AMAZING with the kids and the program really works! The other day I took the kids to the pool and everyone was shocked at their progress. I felt a calm and confidence that I lacked before. The 3 year old was swimming great and the 5 year old was keeping up with the bigger kids. It was awesome!! Thanks again for making this happen. I need more cards. Everyone wants more information. "
Desiree C. (girls age 3 - 5)
"This was an incredible swim course which I highly recommend. Mr. John is so professional and patient! He gave my 2 year old son the confidence that he needed in order to be able to swim. I also loved that the lessons are given from Mr. John's beautiful residence, as it's such a friendly atmosphere, where you are made to feel right at home."
Debbie S. (son - age 26 months)
"We are so pleased with the instruction at Help U Swim. It was amazing to see our 2 year old respond to the drills so efficiently and so quickly. John is effortless in his methods and teaches the
kids with confidence. We are so happy with Help U Swim that we highly recommend it."
Barb and Uri K. (daughter – age 24 months)
"I highly recommend this amazing program to all parents who are looking to teach their children how to swim, using an effective and proven method. Not only did my son learn to swim in 10 days , but he was able to acquire a sense of self-assurance and confidence that he did not have before. John was extremely patient, knowledgeable, and understanding in working with my son, and with all the other children in our class. I feel so secure about going to the pool, knowing that my two-year old son knows how to swim. He definitely enjoys being in the water now!"
Gloria V. (son – age 2 ½)
"Our daughter Nicole started swim lessons with John a week after she turned 2. After a few sessions she was leaping off the side of the pool, turning around and paddling back to the edge. She learned to submerge underwater and swim to the edge while holding her breath for up to 7 seconds. John and Nicole practiced drills where he would emulate an accidental fall to teach her to swim to the stairs or the nearest edge, pull herself up and climb out of the pool back to safety. The success of this feat for a 2 year old gave us an indescribable peace of mind.
Learning to swim at John's home was the perfect environment for our daughter's first experience underwater. The pool is warm and clean and the location is an absolute dream. John is a delight to learn with, he is both friendly and firm and his commitment to teaching is evident. We highly recommend his program to parents who don't want to risk waiting for their child to learn to swim. We're looking forward to returning this summer to continue with Nicole's advancement in swimming. Thanks again for a wonderful and positive experience!"
Sebastian and Raquel C. (daughter – age 2)
"I would like to thank John and Help U Swim for teaching my daughter Victoria the Skill of Swimming. Now, we can enjoy our family vacations knowing that my daughter is able to Swim."
Jorge V. (daughter – age 6)